We Have The Proper Techniques To Restore Your Dallas Home After A Water Damage Disaster
1/16/2020 (Permalink)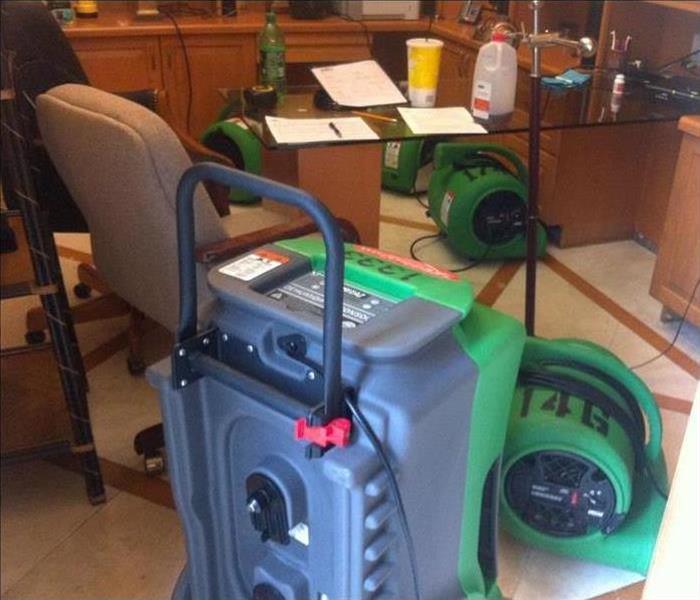 This picture shows commercial air movers and dehumidifiers working to dry the building materials in this property.
Tackling Tricky Commercial Water Damage in Dallas
If there is a water leak inside your business, there can be a water-logged and soggy mess to clean. When the majority of the flooring throughout your commercial space has carpeting, this presents a whole new set of challenges. The excellent news is that you can have a trained team of restoration professionals deployed promptly to address the situation for you.
For commercial water damage in Dallas, the first order of business is drying the carpeting as quickly as possible. Doing so helps to prevent damage to the sub-floor, walls, and any other structural components of the building. You can start in with a bit of the drying process before our team at SERVPRO arrives, and then we can pick up where you left off.
To start in on the drying process before we arrive, you can:
Locate the Source
You must pinpoint the source of the water issue so that you can either lessen the leak or stop it completely. SERVPRO technicians can talk you through the process of turning off the main water to the source of the leak before we arrive.
Remove Water
If you are able to stop the flow of water from coming in, removing excess or standing water is the next step. If you do not have a pump handy, our technicians at SERVPRO have the right equipment to pull out all of the standing water from the impacted space.
Separating Soggy Carpeting from the Floor
If you were able to pull up a fair amount of water damage, you could try to separate the soaked carpet from the floor. If you are not comfortable starting this step, our trained SERVPRO technicians can handle the carpet for you. We pull it away from the tacking strips along the wall and carefully move across the room until all of the carpets are pulled up.
Our Professional Restoration Services
SERVPRO restoration professionals know how to get in and out quickly, assessing the water damage and formulating a plan of action. We will dry all of the carpeting and then use thermal imaging tools that detect any moisture left behind. All areas are dried, including the affected walls, flooring, and sub-flooring. We can clean the carpet using advanced equipment and industrial cleaners, or we can replace the carpeting for you if deemed a total loss. The final step will be checking and cleaning all areas to remediate mold and odors, if necessary.
SERVPRO of Southeast Dallas County is here to help whenever you need assistance with commercial water damage. Give us a call at (972) 227-0800, and we can send a team out as soon as possible to make it "Like it never even happened."
See more about Dallas.